Practice Analysis of Chiropractic 2020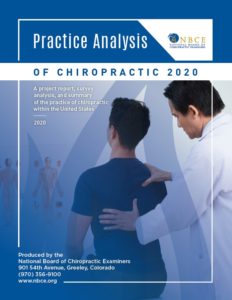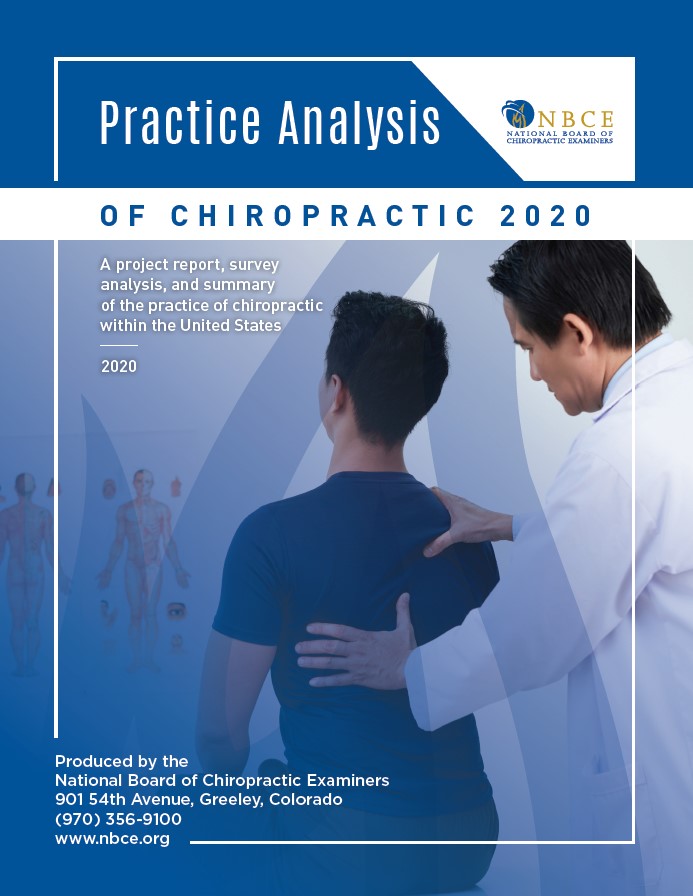 The Practice Analysis of Chiropractic 2020 contains a project report, survey analysis, and summary of chiropractic practice in the United States. Published by the National Board of Chiropractic Examiners, the report summarizes responses from chiropractic practitioners in all 50 states, the District of Columbia, Puerto Rico, the U.S. Virgin Islands, and other U.S. territories.
The Analysis provides legislators, insurance companies, educators, and the general public with an overview of the chiropractic field and its effectiveness as a healthcare profession. Over the years, these updated summaries of the chiropractic profession help determine the content of NBCE's licensure exams. In 2020, for the first time, the practice analysis contains information about the graduates of chiropractic programs who do not practice chiropractic and those who practice part time.
Doctors of Chiropractic were invited to take the survey online with all graduates of chiropractic programs encouraged to provide input. Survey respondents reported information on their daily tasks and professional responsibilities. The survey included questions about the types of conditions chiropractors see in their practices and the frequency and management of those conditions.
This is the sixth survey of U.S. chiropractors, which is conducted by the NBCE approximately every five years. Surveys were conducted in 1991, 1998, 2003, 2009, 2014, and 2019; with the resulting reports published in 1993, 2000, 2005, 2010, 2015, and 2020 respectively.
Downloads

Executive Summary                                    Download (PDF)
Practice Analysis of Chiropractic 2020     Download (PDF)
Archive
If you are interested in earlier versions of the practice analysis report (from 2015, 2010, 2005, 2000, or 1993), please visit the Practice Analysis Archive page.
About the NBCE
The National Board of Chiropractic Examiners (NBCE), including the International Board of Chiropractic Examiners (IBCE), is the international testing agency for the chiropractic profession. The NBCE develops, administers and scores standardized exams that assess knowledge, higher-level cognitive abilities and problem-solving in various basic science and clinical science subjects.
ENSURING PROFESSIONAL COMPETENCY
through excellence in testing